What are you waiting for?
Stop researching and start planning today!
Why Travel with Destination WE
As the world becomes more interconnected and global travel becomes increasingly accessible, the role of travel agents has evolved to become an important part of the travel industry. A travel agent is a professional who helps individuals and groups plan and book travel arrangements, including flights, hotels, tours, and other travel-related services. In this article, we'll explore the benefits of using a travel agent, and why Destination WE Travel is a top option for travelers seeking expert guidance and support for their travel plans.
One of the primary benefits of using a travel agent is the personalized service and attention to detail that they provide. Unlike online booking websites, travel agents take the time to get to know their clients and understand their unique travel needs and preferences. This allows them to create customized itineraries and travel plans that are tailored to each client's specific interests and requirements. By working with a travel agent, you can ensure that your travel plans are optimized for maximum enjoyment and convenience, with all the details taken care of for you.
Another benefit of using a travel agent is the peace of mind that comes with knowing that you have an expert on your side. Travel agents are highly knowledgeable about the travel industry and stay up-to-date on the latest travel trends, news, and regulations. This means that they can provide valuable advice and recommendations on everything from the best time of year to travel to a particular destination, to the most efficient and cost-effective ways to get there. In addition, travel agents are well-connected within the industry and can often secure special deals, upgrades, and other perks that may not be available to the general public.
Some of our favorite places in the world.
Hawaii offers so much to the discerning traveler that it is sometimes a difficult task deciding where to go on your first visit. Whether you are seeking pristine beaches, alluring tropical rainforests, viewing active volcanoes, playing some golf and relaxing at a beautiful beach resort or just going surfing, Hawaii has it all!
View Guide »
If you are looking for a destination that offers unlimited variety- Thailand is the place. Whether you want to soak up the intriguing Thai culture, enjoy the delectable cuisine, explore nature, meditate at a traditional Thai temple, relax on a pristine beach, visit a historic site or enjoy the exciting nightlife, Thailand has something for you!
View Guide »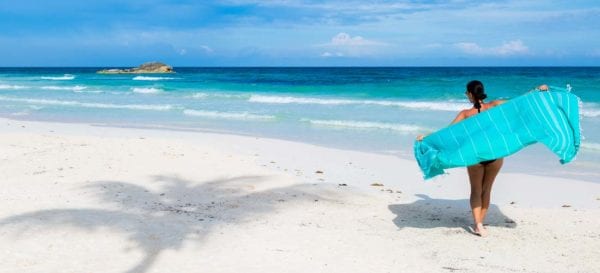 Located on Mexico's famed Caribbean coast, Riviera Maya offers visitors beautiful unspoiled beaches, turquoise waters and a beautiful tropical climate in which to relax and enjoy one another's company. Whether you choose to immerse yourself in the rich historical and cultural heritage of the region, or bathe yourself in the luxury that is on offer, Riviera Maya is sure to satisfy the most discerning of guests.
View Guide »
Seriously we had SOOOO MUCH FUN with you guys!! And thank you so much Janelle Allen for making it all possible!! Our flights were cancelled at almost midnight before our early morning flight and she had it taken care of in minutes and we were on a new flight the same day! Loved every bit of our trip, and how organized it all was! THANK YOU!!!
This was the first time my hubby and I travelled to Mexico and we are now spoiled forever because of this amazing trip Destination We put together to Akumal, Mexico!!! From start to finish, it was amazing! Transportation was a breeze and the resort was first class all the way! They made it so easy, all we had to do was pack our bags, grab our passports and show up! We were definitely not ready to leave and Destination We is already coordinating our next adventure!!! They truly gave us the most amazing and memorable experience!!
When it comes to choosing a travel agent, Destination WE Travel stands out as an excellent option for several reasons. First and foremost, Destination WE Travel is dedicated to providing exceptional customer service and support to all of their clients. They take the time to get to know each client on a personal level and work closely with them to create travel plans that are tailored to their specific needs and preferences. Whether you're planning a romantic honeymoon, a family vacation, or a solo adventure, Destination WE Travel has the expertise and resources to help you plan the trip of a lifetime.
Another reason why Destination WE Travel is a top option for travelers is their commitment to providing value and affordability. They understand that travel can be expensive, and they work hard to find the best deals and discounts available to help their clients save money without sacrificing quality or comfort. Whether you're looking for budget-friendly options or luxury accommodations, Destination WE Travel has the expertise to help you find the best value for your money.
In conclusion, a travel agent is a valuable resource for anyone planning a trip, whether it's a weekend getaway or a round-the-world adventure. By working with a travel agent like Destination WE Travel, you can take the stress out of travel planning and enjoy a seamless and enjoyable experience from start to finish. With their personalized service, industry expertise, and commitment to value and affordability, Destination WE Travel is an excellent option for anyone seeking expert guidance and support for their travel plans.