Cruises are an exciting and relaxing way to vacation, imagine sailing along the pristine waters of the ocean while sipping your favorite cocktail! Going on a cruise is on the bucket list of things to do for 8 out of every ten travelers today. If you have a desire for this type of vacation, Destination WE Travel can help you choose the perfect cruise holiday!
Why Cruises Make a Great Vacation
There are so many reasons why you should take a cruise for your next vacation. One reason is the value inherent in cruise vacations – all your meals, accommodation, daily and nightly entertainment and transportation costs are included in the price of your trip. This makes taking a cruise a much more affordable option than a land-based vacation. You can get cruise deals for sometimes as little as a $100 per person per night, with your kids staying free! Taking a cruise also allows you to experience multiple destinations while unpacking only once! You will sail from one destination to another, seeing and experiencing something new every day, without the hassle of booking trains or renting a car! So, wait no longer, contact Destination WE Travel and allow our travel experts to guide you through choosing the best cruise option for you!
Types of Cruises Available to You
Where do you desire to visit? Are you traveling with family? Are you seeking a luxury included cruise? Whatever your desires are, there is a type of cruise vacation perfect for you. You can book a cruise sailing the pristine and warm waters of the Caribbean, take an alluring European or Mediterranean cruise, book an exotic transatlantic, trans-pacific or Hawaiian cruise or book that cruise to majestic Alaska. Our team at Destination We Travel will also plan personalized river cruises, couple's cruises, family cruises and luxury cruises for you!
Differences in Cruise Pricing
When planning your cruise vacation, you will need to be aware of the different packages available to you and the associated cost. A basic cruise fare includes; accommodation, entertainment, onboard activities such as a variety of games, meals -breakfast, lunch and dinner at the buffet restaurants onboard and tap water, juices and sparkling wine while dining. Most ships, however, have a variety of specialty restaurants onboard that are available to you at an additional cost if you choose to indulge. Alcoholic beverages are not included in the basic cruise fare, and you will have the option to purchase a drink upgrade or take advantage of daily onboard promotions such as happy hour deals, where drink prices are reduced.
There are also associated costs for flights to and from the embarkation ports, port fees, and taxes that can add up to 20% more to the cost of your cruise. Port excursions will also be at an additional cost. At Destination We Travel, we will guide you choosing the best package suited for you based on your budget and desires and ensure that you do not encounter any surprises while on the cruise vacation of your dreams!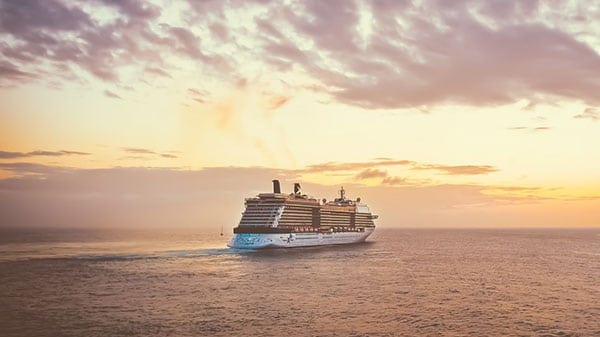 Why should I book my cruise through Destination WE Travel?
With all the nuances and details involved in planning a cruise, it is imperative that you use an expert to guide you through the process. The team at Destination WE Travel has extensive knowledge of cruise lines, cruise destinations and we can help you navigate the best dates for your cruise. We will help you to select the most suitable accommodation for you on the ships and get you the best deals for everything related to your cruise- whether it is onshore excursions or drink packages. When you choose us to be your cruise travel agent, you can rest assured that you will have a memorable, fun-filled and incident free cruise to your destination of choice! So, give us a call today, we are waiting to find the perfect cruise destination for you!
Where and when do you want to go?